Publisher: Disney-Hyperion Books
Page Count: 337 Pages (US Paperback edition)
Source: I received this as a gift from a friend
Format: Print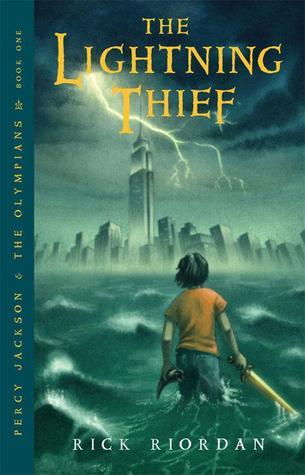 Summary
Percy Jackson is a good kid, but he can't seem to focus on his schoolwork or control his temper. And lately, being away at boarding school is only getting worse-Percy could have sworn his pre-algebra teacher turned into a monster and tried to kill him. When Percy's mom finds out, she knows it's time that he knew the truth about where he came from, and that he go to the one place he'll be safe. She sends Percy to Camp Half Blood, a summer camp for demigods (on Long Island), where he learns that the father he never knew is Poseidon, God of the Sea. Soon a mystery unfolds and together with his friends — one a satyr and the other the demigod daughter of Athena — Percy sets out on a quest across the United States to reach the gates of the Underworld (located in a recording studio in Hollywood) and prevent a catastrophic war between the gods. 
Review
Most people know by now that the Percy Jackson and the Olympians is one of the most popular children's series of all time. And I've always wanted to start this series after learning that there was a book after I saw the horrible movie back in 2010. 
Even though the movie was horrible I heard that the book was really great and very well loved by many. In the past I've tried to read it but never finished the book. I think this is partly because it's middle grade (I don't really like middle grade, don't have anything against it, I just don't really enjoy it) and that it contains a lot of Greek mythology which I don't really understand. 
But this month I buckled down and committed myself to reading it and I'm glad I did. 
Something I really enjoyed about this book was the characters. I loved how they wasn't just cliche characters. They were funny, kick-butt, and really quirky. 
If you are a fan of Fantasy, quirky characters and a lot of sarcastic humor then I recommend this book to you.
Starred Rating: 4 out of 5 stars
This is not a sponsored review unless explicitly stated. All opinions expressed in this review belong to me and all products were purchased by me unless otherwise stated. All opinions are my own.